Italy's Sorrento Amalfi Coast: testing in summer, sublime in winter!
One of the reasons, maybe the main reason, you choose to go to the Sorrento Coast in the depths of winter rather than the heights of summer is the traffic.
The congestion on the road from Naples to Sorrento, and from there to Salerno, is notoriously awful in the hot weather. But the blogs and forums all agree the traffic eases up after October.
We landed in Naples just after 6pm on 26 December. We got to Sorrento shortly before 9pm. The distance is 50 kilometres. The traffic was awful.
You can bear with a drive like that if, when you get to the other end, there is a) a stiff drink, b) a good meal, or c) a nice bed.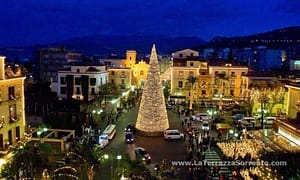 The Piazza Torquato Tasso in Sorrento was busy.
The centerpiece was a tree with a perfect cone rising 12 metres into the clear, cold night. White lights cascaded down its flanks between bands of delicate pink and blue light. It was an Italian Christmas tree: they don't do tizzy.
The piazza is the heart of an Italian town, and in the heart of the heart there's a cafe. In Sorrento's case it's the Fauno Bar. The design is art deco, the ambience that kind of formal merriment you get when Italians in beautiful coats and expertly tied cashmere scarves get together to drink hot chocolate, enjoy a late supper and gossip.
But we only had eyes for one thing: a negroni. Negroni is Italy in a tumbler, invented nearly 100 years ago by a Florentine man who thought that the new-fangled cocktails arriving from America at the turn of the century were too lily-livered for the Italian male. Hence this. One blast of gin, Vermouth, orange and Campari and the little shoulder knots of lactic acid that built up after that frustrating drive were vaporized.
We covered off necessity (b), a good meal, with carpaccio di manzo (beef carpaccio) and pizzaiola (meat cooked with tomatoes, olive oil, garlic and white wine), and caprese ice cream at the nearby Gelateria Primavera. For (c), the bed, we had to take a stroll through an enchanted lane of firs, glistening lights and umbrella pines. At the end we reached the clear and lightning walls of our beautiful Vacation Rental.
Our long terrace looked over a crescent moon and a glittering Bay of Naples. Three hours had been spent inside a Fiat cursing trucks and traffic lights; but it had been a glorious night.
In describing the rest of this short winter visit to the Sorrento Coast, I'd better make one thing clear: we were tourists and we went to tourist places. This is not how travel writers are meant to behave. If I followed that creed, I'd be telling you about the island of Ischia rather than Capri; the town of Amalfi rather than Positano; Oplontis rather than Pompeii; Mount Epomeo, Mount Vesuvius. But we had three days. It was out of season. Capri, Positano, Pompeii and Vesuvius are extraordinary places. There were tourists. Why wouldn't there be?
I've read 'insider' and 'local' blogs sneering at Sorrento. Why? So, there are shops crammed full of limoncello and lemon-themed ceramics and toiletries. So, you'll encounter the menu turistico and people beckoning you into their knitwear shops. What of it? The lemon liqueur is the local specialty, and it's delicious; while the food is uniformly excellent (we had a thing for Ristorante Zi'Ntonio on Via Luigi de Maio) and the knitwear of the highest quality (try Vanity on Via San Cesareo).
It's Italy: they prefer not to produce that.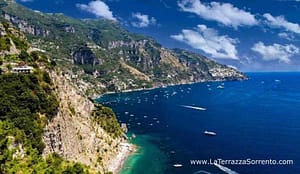 Besides, at this time of the year, most of the tourists are Italian and they won't put up with that. They come down from the north in search of balmy days and that formal merriment thing I mentioned earlier. The kind of tourist town that gets you down is the one where the people don't much like what they're selling, nor the people they're selling to, and the tourists feel bored and harassed. Sorrento's streets and alleyways are buzzy, the shopkeepers care about their goods and nowhere is a rip-off. If that's a tourist town, then give me more of them.
Capri, on the other hand, did feel as if winter really isn't its thing. It's a good time to walk to the Blue Grotto sea cave and the Gardens of Augustus. But many of the restaurants and shops are closed and the piped music echoed a little forlornly around the pedestrianized streets of Anacapri. But I did pick up a rather nice P Langella linen jacket at a good let's-try-and-shift-something-before-spring price.
Positano, though, was rocking, and I'm guessing it never really stops. That's because it's superb: a jumble of old fishermen's houses and small palazzos tumbling onto perfect crescent beaches down from the Monti Lattari Mountain range in a profusion of blood oranges, bananas and tangerines (and that's just the color of the walls).
One of those bossy bloggers said, 'Tip #1: avoid driving the Amalfi Coast yourself.'
Well, we managed to drive along as speedily as we liked, which meant 'not very': not because of the traffic, but because we kept stopping in the laybys to take selfies with the noble sequence of limestone bays stretching out into the Tyrrhenian Sea.
We bought plates and cups at the Emporio della Ceramica. I let my agenda slip a little and asked Lorenzo, the owner, conspiratorially, if he knew a nice little place for lunch, you know, not too touristy. He looked at me bemused. 'Just eat anywhere. They're all pretty good.'
So, feeling somewhat shamefaced we picked the most obvious beachside restaurant, a place called La Cambusa. We had perfect spaghetti alle vongole and a glass of rosé, and were as happy as the clams on the rustic plate in front of us.
I still couldn't rid myself of that nagging travel writer creed thing, so I insisted we drove on beyond Amalfi up into the hills to see what we could find. We found Scala, a rather gloomy, The Name of the Rose kind of village with an imposing cathedral dating back to the ninth century and sunset views over the rosy mountains. It was very fine, but Positano is a lot more fun (and I bought some rather good suede shoes there, too: Boutique Carro on Piazza dei Mulini).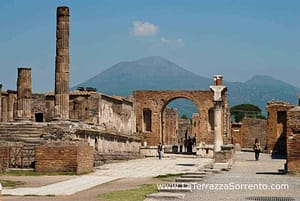 And before we flew back to London: Pompeii.
Even the most po-faced travel writers concede this is one tourist hotspot you should see. Early morning, there were still lengthy queues. By the time we exited the site in the early afternoon, they'd gone.
I don't have the space or the expertise to add much to the millions of words poured over Pompeii since a deadly ash cloud and pyroclastic flow destroyed the city in 79 AD. I suppose everyone has their own highlights. Mine were the contemporary-looking, cube-style design of the mosaics in the House of the Faun, which looked as if Escher had been round to touch them up.
Second: the views of Mount Vesuvius between the intact columns and the ragged remains of the villa walls – a killer surveying a crime scene for eternity.
Vesuvius still has the potential to be murderous, and driving up the flanks of a volcano that is statistically long-overdue another explosive episode makes you a little wobbly in the tummy region. But up there at 1,200 metres in late December, more immediate physical needs take over: like staying warm as the mountain gods hurl icy winds around the shattered summit.
The Amalfi Coast, this indescribably precious piece of international tourism real estate, faces real problems. Capri's mayor thinks his island will 'explode' if the 15,000 visitors who arrive there every summer's day increases. A Unesco official warned that cruise tourists treading the same path every day were 'wearing out' Pompeii. So, help them spread the load. Go in winter. We thought it may rain (it didn't). We suspected it would be chilly (it wasn't, Vesuvius aside). We knew it would be wonderful and it surpassed all expectations.