It is no coincidence that Sorrento is one of the most sought-after locations by couples from all over the world for a dream wedding in Italy.
There are magical places where dream weddings come true, places like the Sorrento Coast. Make your dream wedding come true on the citrus terraces and say your vows with the sparkling Mediterranean Sea in the background.
Imagine your wedding in Sorrento now.
A terrace overlooking the sea, the sky bathed in the warm colors of the setting sun, the salty sea breeze, the enveloping aroma of the scent of lemons and oranges.
All made muffled by the flickering light of a thousand candles …
A spectacular location for your unforgettable wedding!
The road that connects Sorrento to the rest of the coast is clinging to the rock and is one of the most beautiful coastal roads in the world to drive on.
It would be a dream to whiz in a vintage convertible on these winding roads!
The air is scented by the sea and lemon groves and allows you to discover, in a few minutes, fabulous villages, such as Ravello or Positano. But also hidden gems like Furore and Nerano.
Sorrento has fascinated artists, singers and actors such as Richard Wagner, Enrico Caruso, Jack Lemmon, Marilyn Monroe, Sophia Loren and Lucio Dalla.
Let yourself be enchanted by the magic of Sorrento and allow us to add a pinch of this magic to your special day.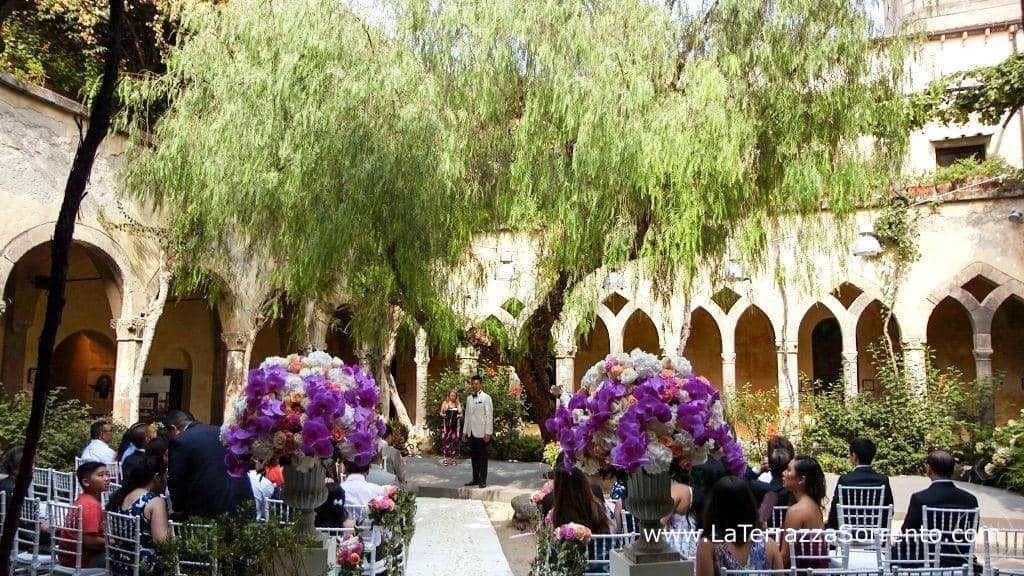 There are always many couples who choose La Terrazza Family Holidays as a base, to organize their wedding in Sorrento.
Our three bedrooms are large and bright
The living room kitchen, of 26 square meters. it allows everyone to get together and spend happy moments of conviviality.
La Terrazza three Baths ensure freedom and independence even for the largest groups.
The laundry room is equipped with 2 washing machines, a dryer and a washing machine.
A fantastic RoofTop Solarium Terrace guarantees you moments of pure relaxation, lying in the sun or sitting under the gazebo, admiring the changing colors of the setting sun.
The parking area 70 meters from the house on the Sorrentine Peninsula is a truly priceless convenience. In fact, it is not easy to find parking easily, and above all at low prices. La Terrazza Family Holidays offers you 2 parking spaces included.