La Terrazza Family Holidays provides guests with the best technologies to optimize the comfort of their stay.
Our guests, staying with us, will find the best SMART applications:
Google Home, the virtual assistant that interacts with guests' questions, drawing on the immense Google archive;
Smart TVs, the televisions installed in the house, as well as the connection with the digital terrestrial and satellite channels, also allow you to view podcasts and internet channels such as YouTube, or access your favorite series on Netflix and Prime Video by logging in with your account. ;
Fire Stick, the stick that allows you to view Amazon Skills on TV, which include games and video channels;
Alexa, is the intelligent assistant who, through Amazon Echo, allows the user to control a variety of objects, services, contents and anything else by voice;
The Lyric thermostat is a Wi-Fi connected platform, designed to guarantee the correct functioning of the heating system.
The Aermec remote control allows you to optimize and manage the new centralized air conditioning system even remotely. We thus have the opportunity to let guests find the perfect temperature in the house;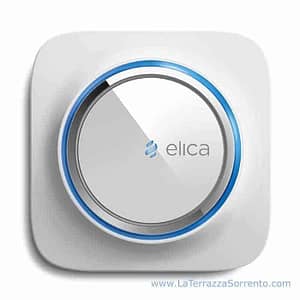 Sensibo sky allows you to control the air conditioning from anywhere using your smartphone, monitor the temperature and humidity remotely, set the 7-day programming, make the air conditioner turn on and off automatically;
Snap "Air Quality Balancer" is the innovative suction system that monitors and improves the air quality of the rooms automatically through an intervention calibrated on their characteristics and your needs;
MINUT is an all-in-one sensor system for the smart home, full of sensors, capable of instantly alerting you of any alarms in the home. Minut is a brilliant and simple system to protect the home, which does not invade your home or your privacy.
The TP Link remote monitoring system manages and optimizes the Internet Access Point network in real time, to always offer the best internet connection in the whole house.
The entrance gate and the door are managed home automation to offer you Self Check In at any time. Of course, home security is paramount in our attention points. Therefore for opening we do not use a WiFi network but a high security wired connection system.
Furthermore, the most delicate accesses and technological systems are monitored through our network of CCTV cameras.
The whole house is covered by Fiber high-speed WiFi internet broadband.