The serenity of our guests is particularly important to us.
At La Terrazza Family Holidays we are particularly careful to ensure the best conditions of serenity for our guests.
For us, the serenity of a holiday is expressed in making the stay of all guests safe and peaceful.
We have therefore prepared the best equipment for you:
The entrance to the common courtyard, protected by the entrance gate monitored by the camera;
The armored door with the manual lock from the inside; Access control, with home automation system;
The camera to protect the entrance;
Safes in all rooms, including one for Notebook 17 ″;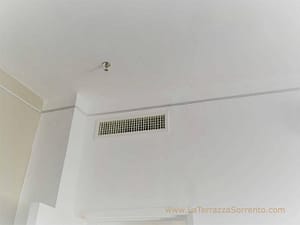 Escape routes and emergency numbers located in every environment;
The gate on the stairs, to protect children;
The Honeywell home automation thermostat;
Sprinkler fire extinguishing system;
Fire extinguishers on each floor;
Smoke detectors in every room and common areas;
The Carbon Dioxide detector in the living room kitchen;
The methane detector in the living room kitchen;
The induction hob;
The Minut multi-sensor detector, respectful of privacy;
The alarm bell in the showers;
The Honeywell anti-flooding sensor;
Emergency lamps in common areas and stairs;
The monitoring cameras of the technical systems;
The electrical system protected by the differential switches;
The centralized air conditioning system;
Continuous control of indoor air quality with our VMCs.