La Terrazza Family Holidays offers guests the best of technology to enjoy the comforts of the Smart Home.
Alexa is an intelligent voice assistant with female name and voice: it is the tool that Amazon has designed to offer users the opportunity to interact with voice commands with algorithms that can open up to a long series of opportunities.
The Amazon idea is that of a service in continuous evolution, which can be continuously enriched and which, precisely through user interactions, is able to learn new skills, new types of responses and new dialectical nuances that can increase empathy between the machine and the person.
Alexa is therefore the set of algorithms and functions behind the devices with which Amazon has given body to its assistant. The voice that is inside the Amazon Echo, as well as the intelligence that is inside the "Alexa" app, are the very profile of that assistant who can be contacted simply by calling him by name.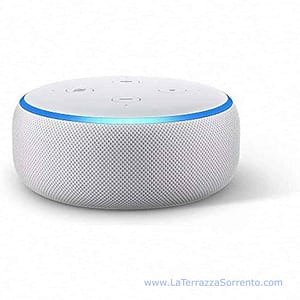 Everything therefore begins by saying "Alexa": a light signal indicates that the attention of the device has been collected, after which it is sufficient to formulate your request. Whether it's starting a song, requesting information or a command for your smart home, the response will be immediate.
Alexa is therefore a real user interface but, instead of being based on visual impulses, it is completely based on a voice interaction system: the user asks, Alexa replies; in some cases Alexa asks for clarifications in order to disambiguate requests whose response could be equivocal.
Interaction with Alexa must follow what is a simple natural language, pronouncing words with sufficient clarity and being able to count on a system of microphones that is often able to distinguish (and ignore) sudden noises and background disturbances.
Questions like "Good morning Alexa" or "Alexa, goodnight!" Provoke a response similar to that of Siri and other intelligent assistants, creating a dialogue that makes the assistant seem more "human". But even simple "Alexa, tell me a joke about Pierino" or "Alexa, tell me a riddle" can immediately return small moments of entertainment. If you are asked to sing a song, you should not expect particularly excellent, but certainly nice, singing performances.
Things Alexa can do
set a timer, which is very useful for example in the kitchen: "Alexa, put a 10 minute timer"; or for the alarm clock in the bedroom: "Alexa, put an alarm clock for 7 in the morning" (adding an "Alexa, wake me up with classical music" you can ensure a sweet awakening every morning);
create lists, such as a shopping list; you can also track your orders on Amazon: "Alexa, where is my order?";
manage an agenda: "Alexa, add an event for Sunday at 3pm", or "Alexa, what do I have on the calendar today?"
answer various questions, such as "Alexa, when does the sun go down?" or "Alexa, how old is Cristiano Ronaldo?". On this front, the desired answers will not always be obtained, and it is on this point that Amazon will probably be able to work to further improve the service.